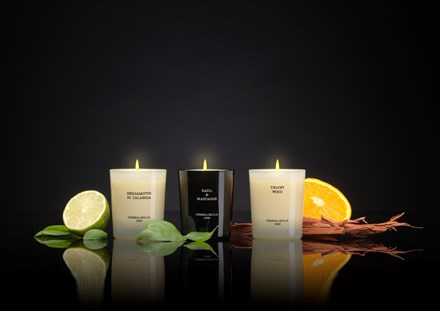 CM - Luxury Candle Gift Set | Basil/Berg/Velvet
Bergamotto di Calibria: Warm Sandalwood combined with the vigorous freshness of Bergamotto di Calibria lends nuances of Cardamon and Lemon that transport you to the Mediterranean island.
Basil & Mandarin: Fragrance that brings an energetic harmony mixture of Lemon, Lime and Tangerine citric notes, accompanied by a prevailing floral scent of Ivy and White Jasmine, with a seductive final thanks to their original woody notes.
Velvet Wood: Explosive combination of spicy and aromatic notes where the spices fuse with lavender to achieve an extreme and deep mixture. The tobacco contributes masculinity to the composition. The vanilla smoothens the notes of tobacco and they add a comfortable aspect to the fragrance.
Each Candle is 2.4oz
Cereria Molla uses only the best raw materials and the most exclusive fragrances, and their craft has been developed by the Molla family, generation after generation, since 1899. The philosophy of Cereria Molla has been to manufacture the best candles on the market "no matter the time or the resources used to achieve it".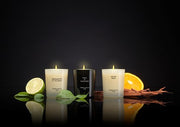 CM - Luxury Candle Gift Set | Basil/Berg/Velvet